Why You Need To Build Your Marketing Program On A Strong Foundation
Although the marketing industry has changed through the years, many of the basic principles have not. A strong properly built marketing program is an asset that will build equity in your business' value and bring return on your investment.
It is easy to get distracted by shiny new marketing tools. And with technology that is easy to do. Search engine optimization, search engine marketing, pay-per-click, PPC and lead gen to name a few. You hear the buzz words at conferences, sales meetings, media outlets and everywhere you look.
But if you are building your entire marketing plan around rented territory, then you are not building on a strong foundation. Don't get me wrong, there still is a place for paid search to find your target market but the reality is that first person data collected through tracking is evaporating due to new laws coming into place which will make it harder and harder for paid search to perform affordability. Not to mention, it has always been a rented shortcut to building your marketing program with weak and expensive leads. Think of paid search as the rent-to-own program of the marketing industry.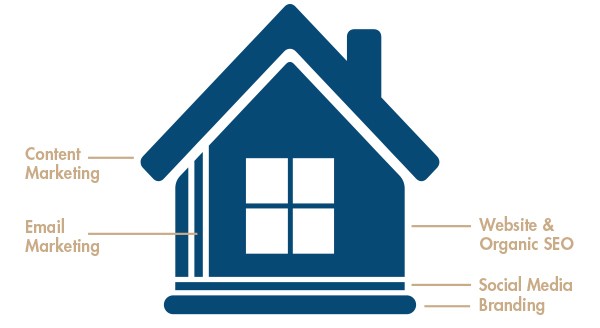 It is more prudent to build a strong future-proof marketing program for your own business where you become the authority (media or influencer) on your industry's subject matter and leads are attracted to you. When you build your marketing house properly, you can optimize all organic channels opportunities first instead of the endless budget spent on the black hole of paid search.
So what is the marketing program foundation? It all starts with branding your company with a distinctive graphic look that is unique and memorable. In the case of most industrial B2B businesses such as forklift and material handling related dealerships, building (framing) the website correctly with proper on-page SEO is the next step. It's a big step though because a mis-step here can leave a business internet invisible.
Content marketing is the roof because it covers so much area and protects the integrity of the program. Content marketing is the development of high quality information, graphics, images and videos that engage with your target market through several marketing channels including the continually adding new, rich, in-depth website content, blogs, website landing pages, and white papers.
The walls are filled with email marketing as a way to keep in touch with customers and prospects. A frequent and consistent email marketing program has been proven to be one of the best channels for return on investment.
Social media posts and video posting are the flooring in the strong future- proofing marketing plan. Consistent and frequent posting on the appropriate platforms for your business will help create an audience. But don't spread yourself too thin. Less is more. Less platforms with more posting will get the best results. The finishing touches or accent pieces to the house that marketing built are traditional trade media, tradeshows or other niche marketing that might pertain.
So in conclusion, once your marketing program is on a firm foundation, then and only then, should an industrial B2B business consider Google AdWords or other PPC for marketing. Once all opportunity has been wrung out of organic marketing, then PPC bidding wars can begin. But odds are that the high quality leads that will be generated by your own organic efforts will keep your sales team's pipeline full. Build it right, and they will come.
For more information on material handling or industrial B2B marketing, contact The Ousset Agency who has helped dealers and manufacturers for 40 years.
"We believe in building a marketing program that is an asset which means building the marketing house properly to optimize all organic channels first."